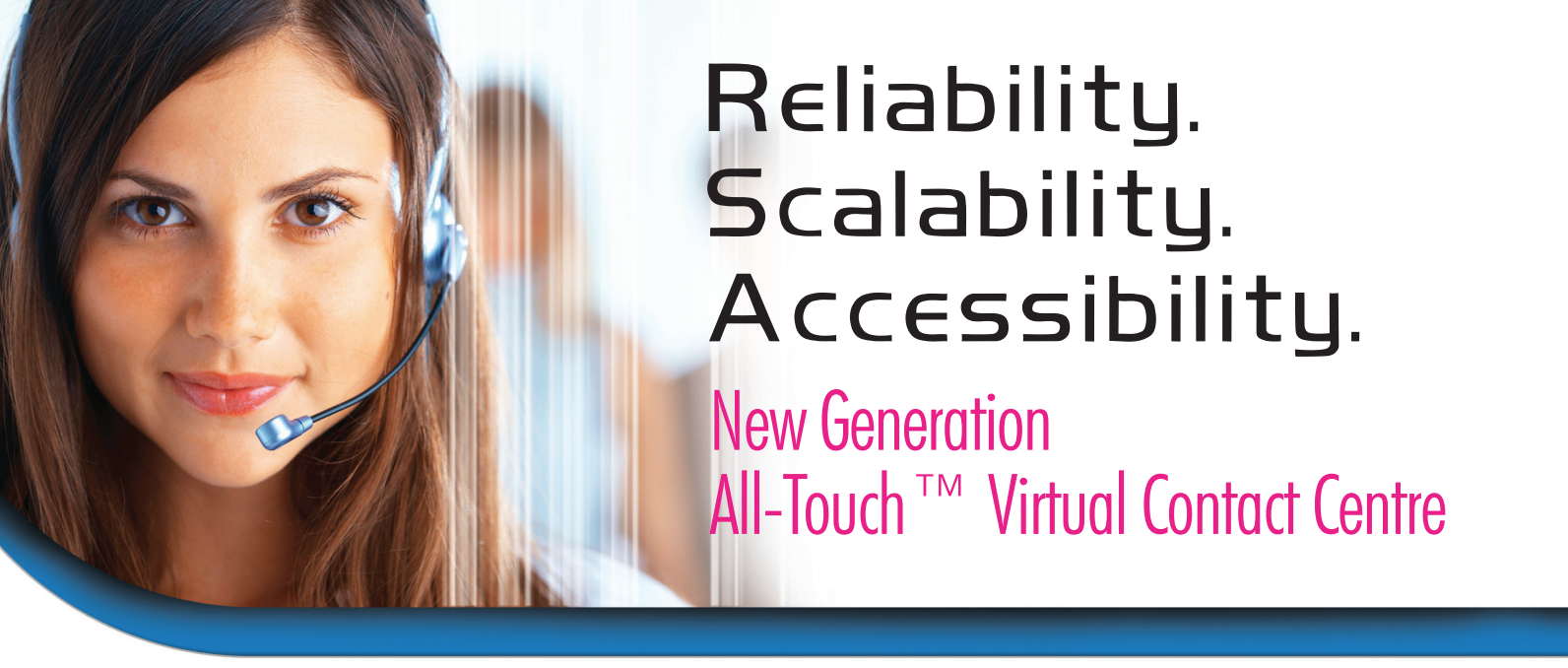 All-Touch Virtual Contact Centre is a no pain, easy to set up centralised and de-centralized call centre service. Using the concept of Software-as-a-Service, All-TouchTM brings call centre solutions to you at monthly recurring fees. No hardware, no intergration or interfering with your LAN or telephone system.
Customer Advantage
Forget about expensive hardware, software, training and administrative costs. All-Touch™ Virtual Contact Centre is a full-featured, enterprise-class contact centre product, minus the integration headaches of premise-based equipment. There are no heavy upfront costs – a PC is all that an agent need. Designed to meet your call centre needs, All-Touch™ Virtual Contact Centre provides leading edge contact centre technologies and features, improving your customer service quality and customers' experience, and giving you new management efficiencies.
Key Benefits
All-Touch™ Cloud Contact Centre is preferred by call center experts for these reasons:
Virtual Call Centre design supports multi site and home operations without additional effort or cost. Agents can be anywhere using internet from a PC.
Reliability is built into the architecture; All-Touch™ Virtual Contact Centre's redundant core servers, telephone and ethernet network and highly-available systems exceeds the availability of on-premise solutions. Systems are monitored and maintained 24/7/365.
Scalability allows instant and large expansion without technology changes. Confidently subscribe to only the amount of capacity needed without restricting future seamless growth.
Management and Monitoring capabilities provide real-time control and status from a PC. Service level alerts or alarms are instilled to uphold high customer expectation.
Easy to use interface designed similar to Microsoft 2007 Office Suite for greater user-friendliness.
Integrating with CRM applications is easy with browser/server environment or client/server applications. API is provided. You can even integrate with CRMs which are hosted locally.
Multi-Media Contact Distribution
Delivers voice calls, web-chat, email, fax, sms to skilled agents
Skills-based routing
Multi-tenant for sub call centre setups
Real-time monitoring of call traffic, queue monitors and agents status
Route calls based on number dialed or caller id
Customized music or message on hold
Customized voice prompts at IVR
Virtual agent extensions across any number of sites
Real-Time Reporting/Monitoring
Monitoring of service level
Supervisor position shows real-time load and current agents' activities
Historical reporting using MS Excel
Pivot tables and pivot charts
Data can be downloaded permanently for quick access
Call Recording and Monitoring
Recording can be hosted locally
"Whispering" feature to provide on-call training
Live monitoring of agent calls in progress
Recording on demand by agent
Recordings retrieval by agent, queue, date/time, number dialed, caller id, comments etc
Customized voice prompts at IVR
Virtual agent extensions across any number of sites
CTI (Computer Telephony Integration)
Interactive Voice Response is included
Screen pop from CRM applications
Caller-id is transferred to next agent for "screen/data" transfer
CRM can be hosted locally or remotely
IVR (Interactive Voice Response)
Supports customer entered digits
Customized greetings and prompts
Recording on demand by agent
Unified Messaging
Open and closed office hours announcements, calendars of holidays
Email Management
Routing based on keywords, email address and CRM intergration
Route incoming email via queue to agents customers' experience, and giving you new management efficiencies
SMS/WEB CHAT
Send SMS from agents' desktop
Route incoming sms via queue to agents
Live Web Chat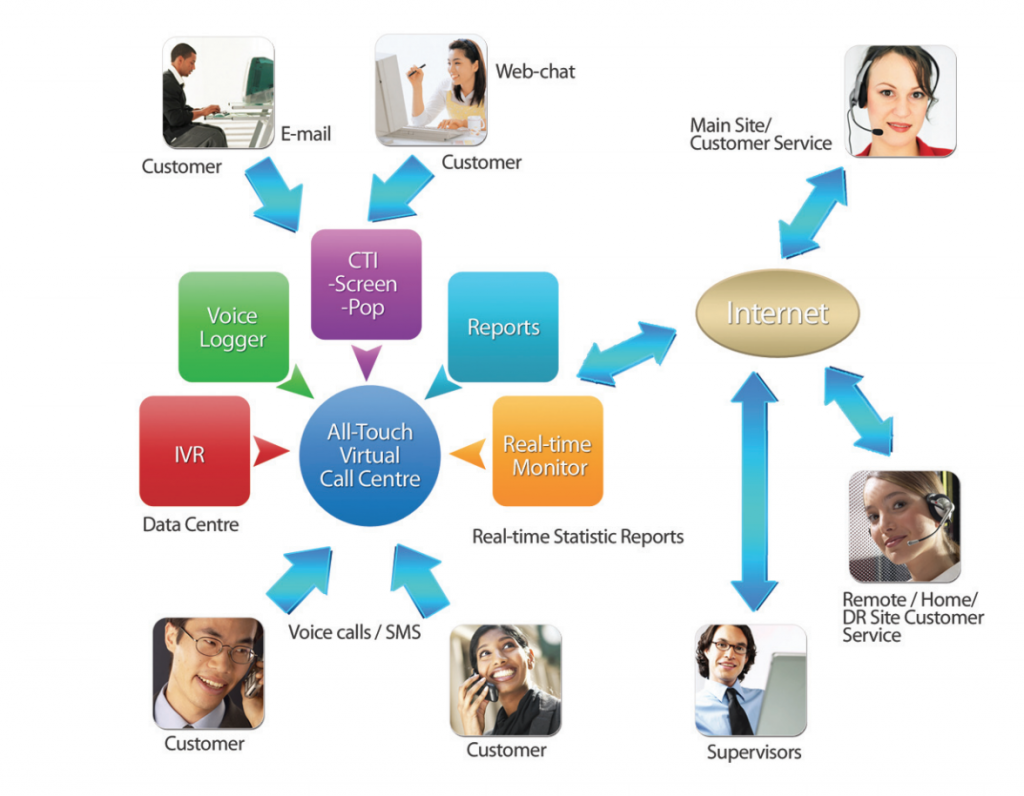 Who Are Our All-Touch Cloud Call Centre Users